Lifeway Solar e-Rickshaw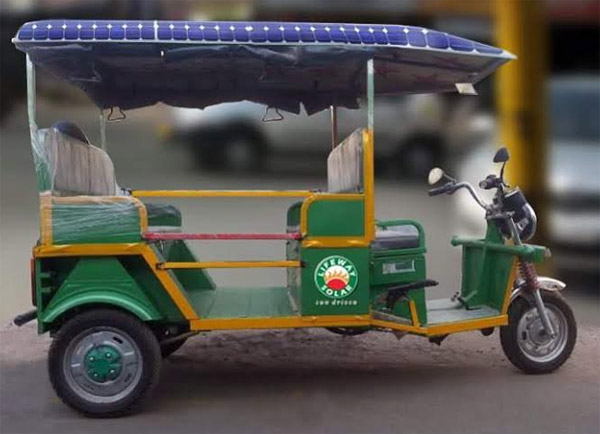 Download Brochure
Frequently asked questions.
Few answers from Mr. Georgekutty Kariyanappally
1. How did the idea to build a solar e–rickshaw come about? What inspired you?
Last 16 years I am working and creating innovative products working in Solar Energy. Eg. Solar Poultry Incubator, Solar Cow milking Machine and now Solar E Rickshaw. Inspiration came from the urgency to reduce cabon from the space. Living in Cochin city I am seeing and suffering pollution in the air.


2. Compared to a conventional auto rickshaw, how does this fare? Is it cost-effective?
I had discussion with many Cochin Auto Rickshaw Drivers and found that they are hiring  an Auto for 12 hours @ rate of Rs.250.00 from Auto owners. Again Rs.250.00 for Diesel to run Approx.80 to 100KM a day. And Per KM they are charging from passengers Rs.10.00 per KM. So after spending 500.00 rupees in the evening they save Rs.500.00 for their family.
Lifeway Solar Rickshaw is giving to those drivers in Rs.1,75,000.00 ( E Rickshaws cost Rs. 1.75 Lakhs to 2 Lakhs. ) per Rickshaw. Rent and Fuel is not required thereby saving Rs.500.00
Local Grameen banks or any other banks can give loan in 5% interest. Local Govt. can give carbon credit to Rickshaw owners thereby sone 50% subsidy can workout. In my calculation an Lifeway Solar Rickshaw Driver can earn Rs 1000.00 in a day his expenses will be vehicle maintenance cost. due to Rash driving etc.


3. Do you feel e-rickshaws are going to become more popular now?
It has to be. A country like India where a Mass public transporting system is required in all parts of our country. Out of 1.25 billion 500 million are not owned vehicles. They need to travel locally for short distance especially working women and housewives who depend occassionally on Auto Rickshaws. A pollution free Solar Rickshaws are the need of the hour for India today.

4. How many solar e-rickshaws are you manufacturing? What are the orders that you have got?
I got tie up with a Vehicle design and manufacturing company in North India.I am out sourcing that job then we in Cochin making it as Solar Rickshaws. Since it is the beginning we ca'nt say the quantity but I am sure there will be a great demand  if we make and deliver quality Solar Rickshaws.

5. What are your future plans with regards to this e-rickshaw? Apart from Kerala, would you be making this in other states as well?
Yes...We have to but it is too early to comment on. Either Franchise or set up a manufacturing hub near Bangalore to distribute directly to clients. Bangaluru is centrally located in South India.

6. Will this find mass acceptance in the years to come? Is it possible for public transport in India to switch over to renewable energy? 
Our policy makers must oversee such things years back. Businessmen came in to this E Car and Rickshaws are struggling without much support. Take REWA car as a case study.
However my observation is that most of the development in India over these years happened by default. You take any good industries including IT industry in India.
So I strongly believe that God will make our country better in future with Renewable Energy based transport system soon. India will be a role model country for Asian and south American countries too.